Chiropractor
Adam Williams D.C.
Dr. Adam J. Williams, originally from Michigan, completed his undergraduate studies at Central Michigan University where he was on a football scholarship and graduated with a Bachelor of Science Degree. After graduation, he moved to Atlanta, GA and earned his Doctor of Chiropractic Degree at Life University.
Dr. Adam and his wife Dr. Tammy moved to Clemmons, NC in 2004 and started their family.  They now love spending their time with their two daughters, traveling when they can and keeping up with their daughter's school and sporting events.
Dr. Adam personally enjoys cycling, exercising and golf.  On any given Saturday, you can usually find him at the soccer field coaching and/ or watching his girls play soccer.
At Optimal Health Chiropractic, we provide effective care for neck and back pain, headaches and migraines, fibromyalgia, carpal tunnel, foot pain, knee pain, shoulder pain.  We also care for expectant mothers and children too.
Dr. Adam would love to welcome you to the Optimal Health Chiropractic family!!!   Optimal Health Chiropractic is the area's premier health and wellness expert for your family.  We are accepting new patients of all ages and our warm and caring staff is always ready to help.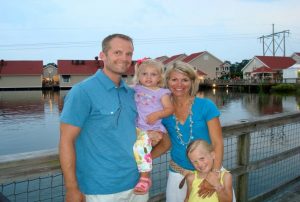 We accept most insurance plans, work directly with your auto insurance and/or attorney on your behalf and provide financing options to help you get the care you need.   Our consultation is always done at no charge, so you have nothing to lose except your pain that is keeping you from living your life Optimally!
Call 336-712-4100 today.
Chiropractor
Chris Hussey D.C.
Dr. Chris has been involved in Chiropractic since he was 9 years old. Due to a combination of traumatic birth stresses and a natural leg length imbalance, Dr. Chris began experiencing the symptoms of severe pain, burning, and numbness in the backs of his legs.
When his parents took him to their own amazing Chiropractors, everyone was shocked to learn that this child was experiencing sciatica at a very young age.
By 12, Dr. Chris knew he was born to be a Chiropractor. At 19, Dr. Chris started working as a Chiropractic Assistant and Office Manager in order to learn the ins-and-outs of taking care of the patients from the very first step to the very last. After completing his undergraduate with a Biology Degree at High Point University, Dr. Chris felt that he needed more education to be better prepared for caring for people the way that everyone deserves – with dignity and respect. He pursued further education in genetics, eye care, pharmaceutical knowledge, functional blood chemistry and athletic injury.
While in Palmer College of Chiropractic, Dr. Chris also learned about the necessities of foundational support and spinal curvature balance. He acquired the learning and tools to help him correct many of his long-term structural imbalances, including functional foot orthotics and correction of the curvature of his neck region to overcome pain and challenges he'd been experiencing his whole life.
Dr. Chris believes that following his Calling to Chiropractic has led him to Optimal Health Chiropractic, where he serve others by paying forward his own care and improvement through Chiropractic Wellness to enhance the Living Well Being of all members of our community.
Ally
Ally is a mom of two and you can find her at the park or the pool with her kiddos in her free time!
Her favorite TV show: The Office
Her favorite food: Breakfast food
A fun fact about her: She loves arts and crafts!
Her favorite thing about her job: "the people I get to work with every single day! We are all so positive and determined to improve the health of our community."
Kim
Kim is a native of NC who loves the ocean, camping, reading, crosswords, puzzles, and spending time with her family (including her 2 rescue pups)!
Favorite TV show: Schitts Creek
Favorite Food: French Fries
Fun Fact: Kim recently sailed the Nile and rode a camel!!
Why Kim loves working at OHC: "I love working with our team and working every day to help our community feel it's best! Working at OHC is perfect for me because I love to help others."
Rosanna
Rosanna is a Winston-Salem native and moved to Clemmons after she married her high school sweetheart in 2020!
Favorite TV show: The Office
Favorite food: Ice Cream (dairy free though)
Fun Fact: Rosanna has her black belt in Tae Kwon Do.
Favorite part of working at OHC: "My favorite part of working at OHC is the friendships I have made with our team and getting to watch people's health and life change in front of our eyes!"
| | |
| --- | --- |
| Monday | 8:00am - 6:00pm |
| Tuesday | 7:30am - 5:30pm |
| Wednesday | 8:00am - 6:00pm |
| Thursday | 8:00am - 5:30pm |
| Friday | 7:30am - 12:00pm |
| Saturday | Closed |
| Sunday | Closed |
2575 Old Glory Road #300
Clemmons, NC 27012